Welcome to Year 2's Information Page.
Year 2 staff are Rohit Bhatti and Jacque Stagg.
Our aim is to provide the children with a nurturing environment that is both stimulating and academically challenging.
We have an incredibly busy and exciting half term to look forward to. Our Topic this half term is The Great Fire of London, In English we are looking at modern day tales. Science lessons this term will focus on health and growth. In mathematics we will be focusing on place value and addition and subtraction strategies. The unit of work to be covered in R.E. is Living by Rules.
P.E. will be held on a Thursday and children are asked to ensure that kits are in school before this day. It would be helpful for children to have the correct footwear (trainers are preferred).
Children have a regular schemed home-reader book which they are able to take home to read, as well as being able to loan out books from the school library. The library can be used by children during break times, lunchtimes and after school, when accompanied by an adult.
Homework and spellings will be given out on a Friday and we would like both Learning Logs and Spelling Books to be handed in on the following Wednesday. Spelling tests will take place on Fridays.
Enrichment activities will take place on a Wednesday afternoon. More information will be given out in due course.
Traction Man is Here by Mini Grey is a wonderful book we have enjoyed working on in Year 2. We touched upon many areas of curriculum including English, Art and DT, Year 2 even filmed their own versions of Traction Man!
Year 2's visit to St. George's Church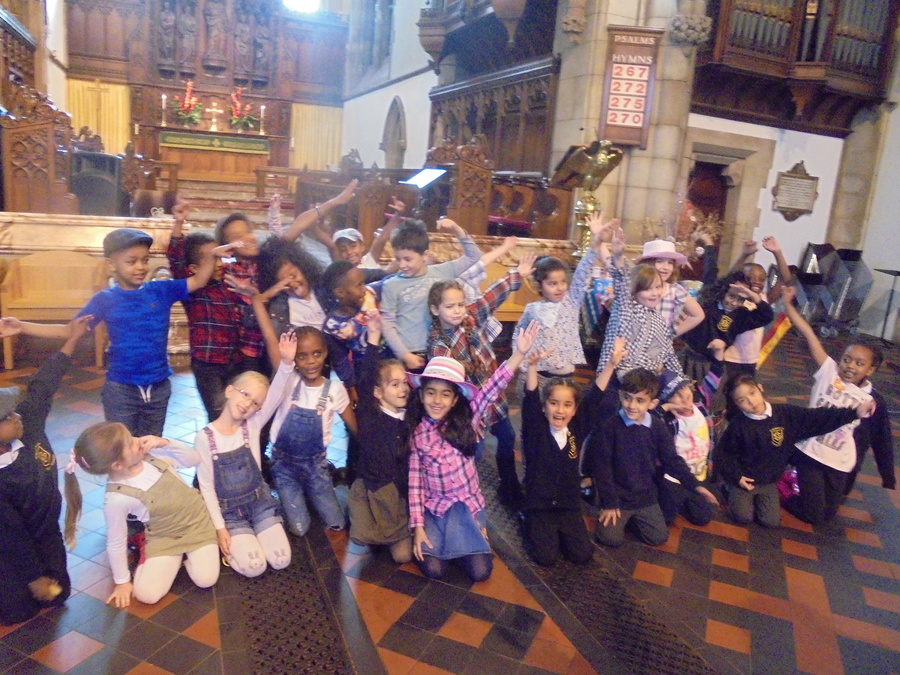 Year 2 celebrated Harvest by putting on a spectacular performance at St George's Church. All of the children worked together to rehearse and perform their lines, songs and dance moves!
Thank you for the generosity of our children and their families for the number of food donations made.
The Great Fire of London Parent Drop In
To mark the end of our Topic 'The Great Fire of London', parents were invited to a drop in session.
The children shared what they had learnt and parents were able to work with their child to explore different
sources of
information that tell us about the fires, 351 years ago.