Class Activities
Year 2's visit to St. George's Church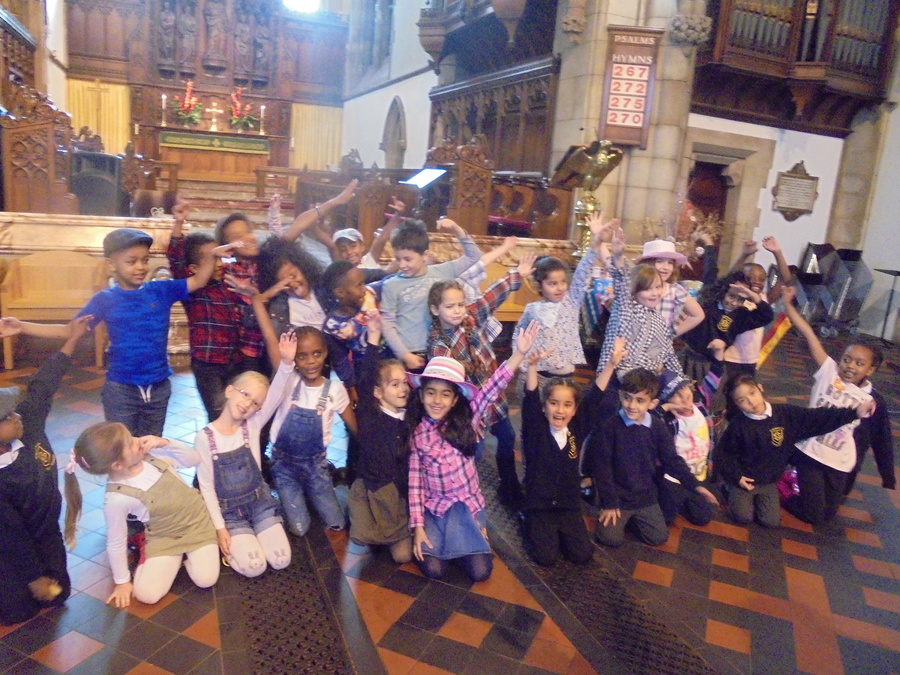 Year 2 celebrated Harvest by putting on a spectacular performance at St George's Church. All of the children worked together to rehearse and perform their lines, songs and dance moves!
Thank you for the generosity of our children and their families for the number of food donations made.
'The Great Fire of London' Parent Drop In
To mark the end of our Topic 'The Great Fire of London', parents were invited to a drop in session. The children shared what they had learnt and parents were able to work with their child to explore different sources of information that tell us about the fires, 351 years ago.
Remembrance Day Poetry
Although Remembrance Day has passed, for the whole of this half term Year 2 have been learning about this important and significant day.
In Year 2 this term we have begun to read, learn and recite poetry. To link with our Remembrance Day Topic we enjoyed learning and reciting poetry about this important period of time.
Coming In On a Wing and a Prayer
Our first Geography topic was 'My World and Me'. We have focussed on: locating the UK, the equator and the poles on a world map and globe; the temperature of different places in the world; learning about animals in different parts of the world and the climate they live in.
Whilst studying this topic we made links with our writing in English and explored the settings of the book Meerkat Mail. The children located the Kalahari Desert, looking at which continent and countries it is located in and which oceans surround it. We also explored the climate of the Kalahari Desert and learned the difference between human and physical features.
Following Sunny's travels in the story Meerkat Mail we created postcards of places Sunny visited and wrote about his journeys!
Lets go to the Jungle
This summer term children will be researching and investigating what Rainforests are. They will use world maps to plot where rainforests are found, they will describe the features of the forests, look at the different climates compared to the UK and begin to have an understanding of deforestation and how we can save the forests.
Science
Following our trip, in the Autumn term, to the Botanical Gardens children have been really enthused to learn about plants and growth.
In the Spring term our topic is 'Plants' and we will be learning new skills, as well as consolidating previously learnt skills. Our topic has a strong focus on practical activities, and these will play a key role in our learning. We will be exploring our surrounding environment and looking at different types of plant-life. Gardening will be a regular activity in this topic and we have already been busy designing and planning Year 2's Garden with Mrs 'Art' Brown.
In the classroom, we have planted our own seeds and have looked at different parts of a plant and different types of flowers and trees. We carried out an investigation about how to care for plants and are enjoying this science topic!
Our investigation led us to experiment with sunlight to test how important it is for a plant.
We discovered that the best conditions for a plant included just enough air, sunlight, water and minerals. We understand that plants are crucial to our world for feeding us and for helping to provide oxygen for us to breath.
We have therefore been growing our own beetroot plants to help 'do our part' to save the world and to understand what plants need and how to care for them.
Our Year 2 budding scientists discovered that over watering is one of the more common causes of plant problem! However this tragic turn of events aided our teaching and learning of germination. Seeds can be extremely fun and identifying parts can be very easy. We saw how the small white part grew and noticed that it was the root because when seeds germinate the root comes first to find water for the growing plant. As the plant grows, the shoot emerges!
With an action outfit for almost every occasion, Traction Man patrols the house saving toys, guarding toast, searching for lost wrecks and rescuing damsels in distress. Traction Man is Here by Mini Grey is a wonderful book we have enjoyed working on in Year 2.
We touched upon many areas of curriculum including English, Art and DT, Year 2 even filmed their own versions of Traction Man!
Sunny's visit to St George's!
During English this term we have been developing our letter writing skills. We have been reading the story Meerkat Mail by Emily Gravett. The story is full of postcards from Sunny the meerkat telling his family all about his travels to find a new home. We have been looking at the features of a good letter and have been writing our own.
After a surprise visit from Sunny the meerkat, the children read the text Meerkat Mail and created some wonderful character and setting descriptions. They also wrote their own story about their adventures with Sunny, exploring new habitats and using postcards to reveal a character's feelings and thoughts.
Trip to Botanical Gardens
On the 16th February Year 2 and Year 3 visited the Botanical Gardens in Birmingham to learn about plants and growth.
The children had a fantastic time looking at parts of plants, flowers and learning about pollination in an interactive teaching session.
The children enjoyed walking through the green houses discovering the different types of plant life. We learnt that we can eat some roots, some stems, some flowers, some leaves and most fruits that grow.
Our day out at Warwick Castle
Wow! An incredible day at Warwick Castle...so much to see and do. Year 2 thought it was amazing!!! A big "Thank You" to – all the pupils who were great ambassadors for our school – well behaved despite bubbling with excitement, interest and enthusiasm.
Our day at Warwick Castle
The day started with us 'getting lost' in a maze - splitting into groups, we had great fun finding our way out! Then we trekked up to the Motte, the oldest part of the castle. After that, we journeyed towards the marquee to have our lunch and spotted some pretty peacocks shaking their tail feathers! How lovely they looked!
Shortly after lunch, we saw some birds of prey and then marched on to our next stop - a special workshop taken by a helpful princess. She told us all about shields and the importance of the design and colour. We then designed our own shields, which we will paint onto wooden shields later in the term at school.
Later we saw the Bowman who explained the techniques and equipment used in this popular historic past time!
Next, we further explored the castle and discovered how life was for people who worked at the castle long ago. To end the day we experienced a journey back in time to medieval ages in 'The Kingmaker' exhibition.
Many of the children said that it was a great day and that they would love to go back with their parents to see it all again!
Norman Shields
Following our trip to Warwick Castle we learnt some more about Norman shields and the designs they used. The colours and the symbols had different meanings. We chose our colours and symbols and re-designed our very own shields. We then painted our designs onto wooden shields.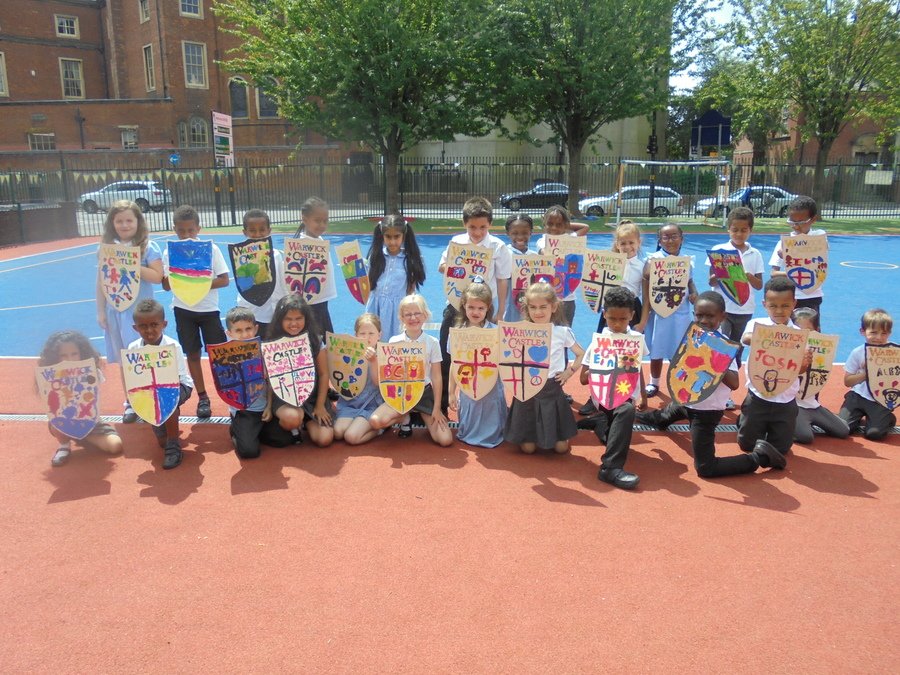 Castle Project
Using their knowledge of the different features of a castle, children were tasked to build a model castle. Through imaginative use of toilet rolls, pringle tubes and cardboard boxes, some wonderful castles were built with key features such as battlements. Some castles even included fully functional drawbridges!
Well done to those children (and parents!) that have made castles at home. The results were extremely impressive. They are all proudly on display in St Michael's Hall at St George's.
Castle Competition
Following an online poll we were happy to announce the winner of the most popular castle and most detailed design! Well done Tegan and Dunia!
Peace Garden Butterflies
Some of our Year 2 pupils have been really kind-hearted. At home, they have lovingly cared for crawling caterpillars. They have fed them, watched them grow, then turn into a chrysalis and finally emerge as beautiful butterflies. It was emotional releasing them into the Peace Garden even though it was best for them.
Bees and butterflies need flowers that have nectar that they like to eat and butterflies are important because they help pollinate plants. Thanks Beth & Jess!