Class Activities
Year 2's visit to St. George's Church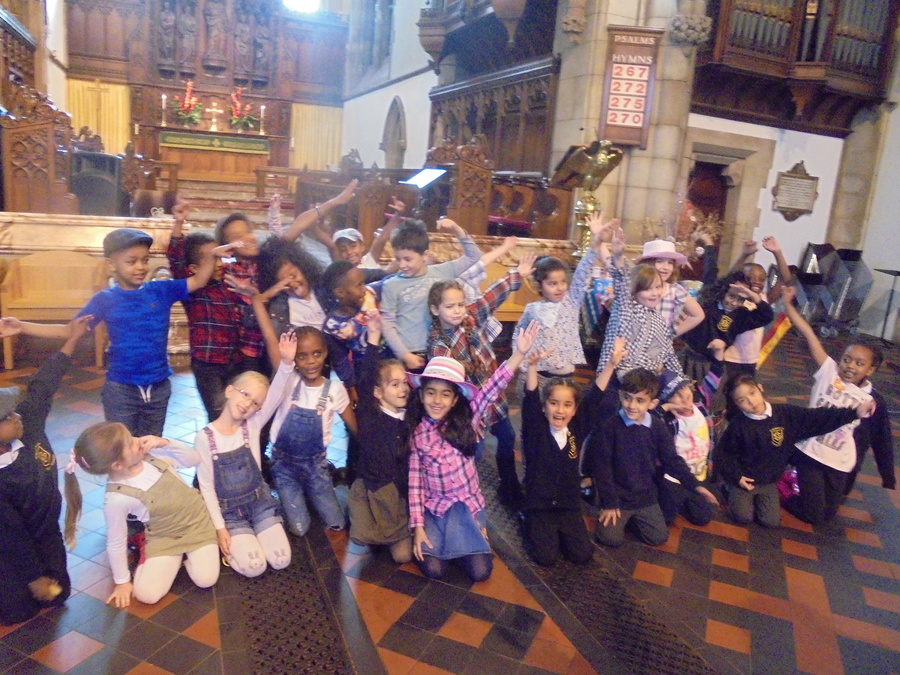 Year 2 celebrated Harvest by putting on a spectacular performance at St George's Church. All of the children worked together to rehearse and perform their lines, songs and dance moves!
Thank you for the generosity of our children and their families for the number of food donations made.
'The Great Fire of London' Parent Drop In
To mark the end of our Topic 'The Great Fire of London', parents were invited to a drop in session. The children shared what they had learnt and parents were able to work with their child to explore different sources of information that tell us about the fires, 351 years ago.
Remembrance Day Poetry
Although Remembrance Day has passed, for the whole of this half term Year 2 have been learning about this important and significant day.
In Year 2 this term we have begun to read, learn and recite poetry. To link with our Remembrance Day Topic we enjoyed learning and reciting poetry about this important period of time.
Coming In On a Wing and a Prayer
With an action outfit for almost every occasion, Traction Man patrols the house saving toys, guarding toast, searching for lost wrecks and rescuing damsels in distress. Traction Man is Here by Mini Grey is a wonderful book we have enjoyed working on in Year 2.
We touched upon many areas of curriculum including English, Art and DT, Year 2 even filmed their own versions of Traction Man!
Sunny's visit to St George's!
During English this term we have been developing our letter writing skills. We have been reading the story Meerkat Mail by Emily Gravett. The story is full of postcards from Sunny the meerkat telling his family all about his travels to find a new home. We have been looking at the features of a good letter and have been writing our own.
After a surprise visit from Sunny the meerkat, the children read the text Meerkat Mail and created some wonderful character and setting descriptions. They also wrote their own story about their adventures with Sunny, exploring new habitats and using postcards to reveal a character's feelings and thoughts.
Trip to Botanical Gardens
On the 16th February Year 2 and Year 3 visited the Botanical Gardens in Birmingham to learn about plants and growth.
The children had a fantastic time looking at parts of plants, flowers and learning about pollination in an interactive teaching session.
The children enjoyed walking through the green houses discovering the different types of plant life. We learnt that we can eat some roots, some stems, some flowers, some leaves and most fruits that grow.
Trip to Warwick Castle
Wow! An incredible day at Warwick Castle...so much to see and do. Year 2 thought it was amazing!!! A big "Thank You" to – all the pupils who were great ambassadors for our school – well behaved despite bubbling with excitement, interest and enthusiasm.
Our day at Warwick Castle
The day started with us 'getting lost' in a maze - splitting into groups, we had great fun finding our way out! Then we trekked up to the Motte, the oldest part of the castle. After that, we journeyed towards the marquee to have our lunch and spotted some pretty peacocks shaking their tail feathers! How lovely they looked!
Shortly after lunch, we saw some birds of prey and then marched on to our next stop - a special workshop taken by a helpful princess. She told us all about shields and the importance of the design and colour. We then designed our own shields, which we will paint onto wooden shields later in the term at school.
Later we saw the Bowman who explained the techniques and equipment used in this popular historic past time!
Next, we further explored the castle and discovered how life was for people who worked at the castle long ago. To end the day we experienced a journey back in time to medieval ages in 'The Kingmaker' exhibition.
Many of the children said that it was a great day and that they would love to go back with their parents to see it all again!