Encouraging Children to
Read for Pleasure
In school all children have access to a well stocked library. The resources accessible to each child change as they progress in age and ability. The library is open every day, for books to be changed.
Library Opening Times:
Play Time: 10.25-10.40 (Daily)
Lunch Time: 12.10-13.00 (Daily)
Golden Time: 14.30-15.00 (Friday)
After School: 15.15-15.30 (Daily - Children must be accompanied by an adult.)
The library however, is not just open to children who wish to change their book. It is actually open to anybody who wishes to use the library for library purposes. We offer reading buddies, a chance to share stories with friends and even interactive displays.
To maintain our wide range of books and materials, we ask that all children renew their books on a regular basis. They can continue to read it, just scan it at the library as a check-in system. We also ask for all library books to be returned to school before the end of each term. Any books that are not returned will be considered lost and charged for at the cost of replacement as recorded in our library system. This way, stock can be replenished and children will still have access to a wealth of materials.
Read to Succeed
This program is specifically for children in Reception and Year 1 only.
At the start of each term every child on the scheme will receive a new chart to be completed. Only one box should be filled in each day. Once completed, the chart should be returned to school and they will receive a Golden Signature, 5 house points.
At the end of each term, every child to have completed 10 charts will receive a certificate and prize in Celebration Time.
If ever your child has lost their chart, they can collect a new one from Miss Palmer.
Here is an example of a Read to Succeed chart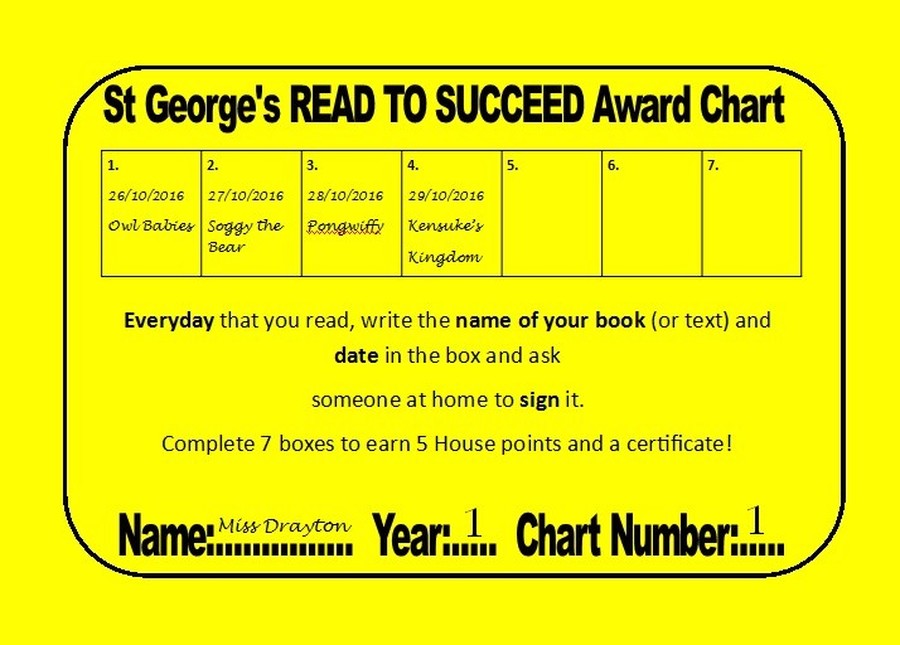 Accelerated Reader
Nothing
AR is a computer program that helps teachers manage and monitor children's independent reading practice from Y2-6. Here at St George's, the children have made it much more than that. It has become a scheme that encourages children to continuously read and challenge themselves. It creates a sense of achievement for the children and their dedication to the program has developed a positive culture surrounding reading in our school.
Children will pick a book in their reading range, read it and then quiz on it. Correct answers on these quizzes earn children points towards their final target. 100% on a quiz adds a brick to our Wall of 100% and achieving their target earn a certificate in Celebration Assembly.
Here is a picture of our 100% wall, taken just before Christmas.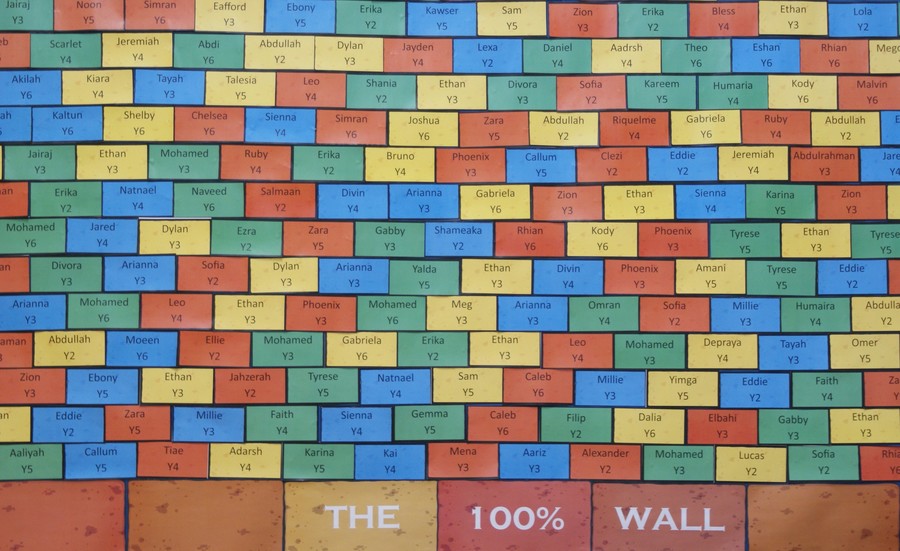 Very impressive!
To check if a book that is not from our school library has a quiz you can search for it on www.arbookfinder.co.uk .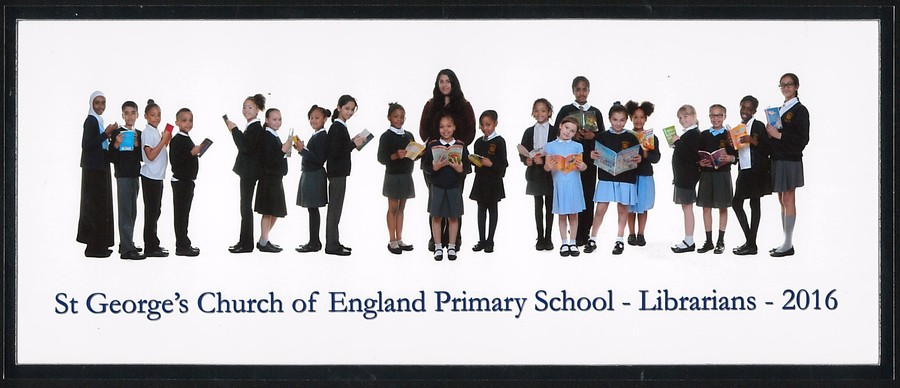 This team of children, along with some new additions this year, really help to encourage a great working environment in our school library.
A huge thank you to everyone involved in making our school library what it is today.