Year 3 2017-2018
Year 3
Welcome to Year 3
This class is taught by Mr Hill and supported by Jean. Our topic for the this term is 'Countries of the World'. Where we will be exploring the continents, researching and comparing different countries climates, populations, landmarks, currencies and languages.
P.E.
Year 3's P.E. session for the final term is held on a Monday morning. Children will need their PE kit in school on this day.
PE Kit consist of house coloured t-shirt, black shorts/leggings/tracksuit bottoms and trainers.
Spellings and Homework
Spellings and homework are given out on Fridays.
Homework should be return by the following Wednesday
Home Reading
Children will be involved in the schools 'Accelerated Reader' scheme. This involves children quizzing on a book once they have completed it to assess their understanding. Year 3 can visit the school library during break time and lunch time with a library pass as well as during silent reading after lunch. Reading at home is encouraged.
Countries of the World Landing
On Monday 21st May Year 3 invited parents into the classroom to share what they had learned about countries of the world this half term.
The afternoon began with group presentations filled with fascinating facts about the continents of the world and the countries that are within them.
"Suriname is the smallest country is South America, it could fit inside Brazil 50 times!" - Taylor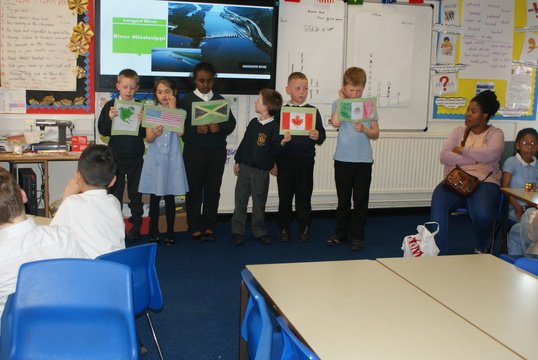 There was then the opportunity to try some different snacks and nibbles from a variety of countries. We had food from every continent and even some homemade dishes from Ecuador.
"I tried lots of things that I had never tried before, the French cheeses were delicious!" - Ta'Rayah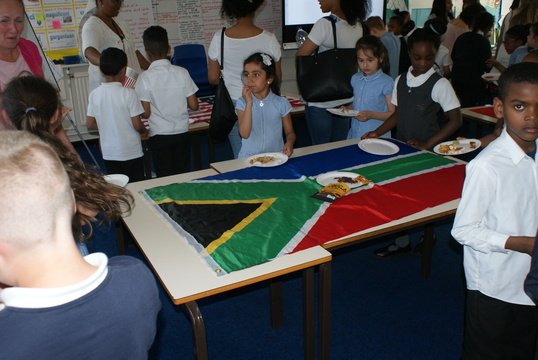 Finally, there was a quiz that tested both pupils and parents knowledge of countries and continents!