Peace Garden and Peace Festival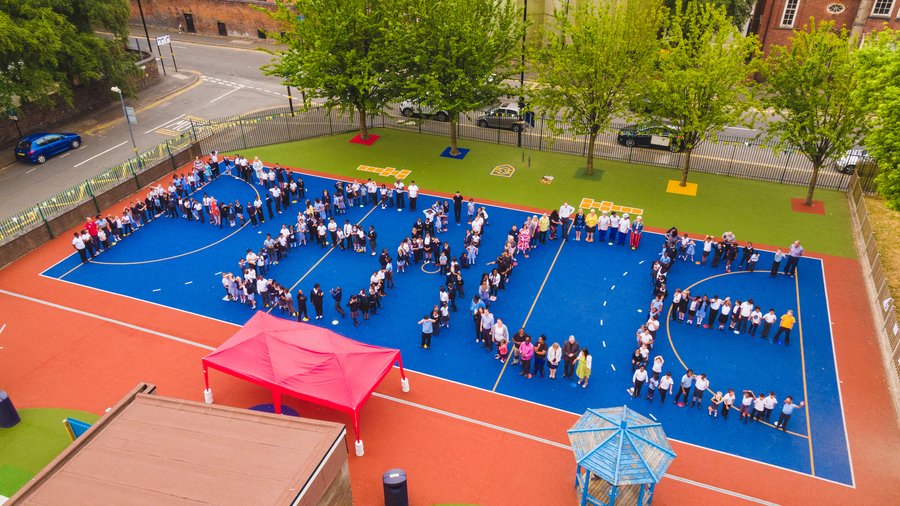 Peace Garden
Every year a set a theme for the year, with this year's theme being 'Learning for Peace.'
We are creating a school that truly gives children the opportunity to live 'life in all it's fullness'. But we wanted to do more - to encourage our community to live in harmony beyond the school. We believe our church schools are places of people formation - a place that inspires the minds, hearts and spirits of children to become adults who proactively make a difference in our world.
In July 2017 Year 3 pupils designed a peace garden as part of a Calthorpe Estate Competition for the new development 'New Square Gardens'. This garden would be built in 2020. The Worship Council at this point requested that we could build one before then as they wanted a space to relax, think, be closer to God, a place to remember people and a place of happiness.
Bill Graham, a member of St George's Church congregation had previously worked with our children in 2014 to design a mirror garden at our church and in school. Our ideas at the time were quite ambitious so we built our school Peace Garden into our school improvement plan. Bill, this year, has worked closely with our children to develop computer aided designs. We have now brought the children's designs to life. It has been crazy and a lot of work but on Friday, we were ready for the garden to be dedicated by the Archdeacon Hayward Osborne. Every child placed a stone in the dry stone river with messages and pictures of peace on them.
We wish for it to be a place of sanctuary, peace, love, remembrance and hope. There is also a recycling theme to look after our planet. We have used recycled tiles, food tins, rubber tyre chippings and a gazebo that was ready for the landfill.
We have had donations from:
Our Church - A cherry tree - which we was planted by the Archdeacon on Friday on the day in the Peace Garden.
Spring to Life - Local gardening project that aim to create Mother Gardens that grow plants for food, medicinal and spiritual purposes. The idea here is that other gardeners can take clippings from our Mother Garden to create their own.
Parents and Staff have worked together on creating a large mosaic of a dove with smaller doves created by the children with the word peace in different languages. They have also been running a crochet club where staff, parents, grandparents have crocheted squares that have been joined together to make a blanked of 'unity' that is hugging a large tree in the Peace Garden.
Peace Festival
This year at St George's we have been encouraging our children and community to engage with our theme 'Learning for Peace.' We were inspired by the Peace Makers Project and wanted our children to develop their SMSC learning. So far we have celebrated International Peace Day, developed special family collective worships, worked with other school councils, explored 'War and Peace', Voices of Peace - past and present, Peace Kites from different cultures, recycling and protecting our planet and God's creatures, performing and writing poetry, designing and building our community Peace Garden as well as developing the concept of being a 'Peace Maker' into our curriculum.
In true St George's style, the staff had an idea in July 2017 to end our year with a 'Peace Festival' so that St George's has a wider impact of our diverse, deprived and busy inner city community.
And so, on Friday 13th July, the whole community was invited to attend the Peace Festival. With many acts on the main stage, an interactive circus funded by the FSA, morris dancers and much more - it was certainly a day to be remembered by all. Thank you also to Morrisons for once again providing refreshments.
We hope that you enjoyed the festival as it was a fantastic end to the year and enjoyed by all the community.