Special Educational Needs
"Every Teacher, Every Child"
At St George's Church of England Primary School, all children respective of ability, race, gender or need, are respected and valued as complete individuals. This is reflected in the school's organisational and curriculum structure, its assessment and reward systems and the arrangements made for careers' advice. Children with special educational needs are integrated and included into the life of the school as a whole, including its social and cultural activities.
All children at St George's Church of England Primary School, regardless of their need, receive Quality First Teaching. This means:
That practitioners have the highest expectations for all children in the class.

That all learning is based upon what the individual child knows and can understand.

Different methods of teaching are in place so that all children can be fully involved in learning.

Teachers continuously monitor progress to ensure that learning gaps are addressed so that all children make the best possible progress.
However, we recognise that each child is unique and will therefore require different support, depending upon their specific needs.
The school provides a graduated response each dependent on their level of need. This approach is often referred to as the waves of intervention model, which can be seen below.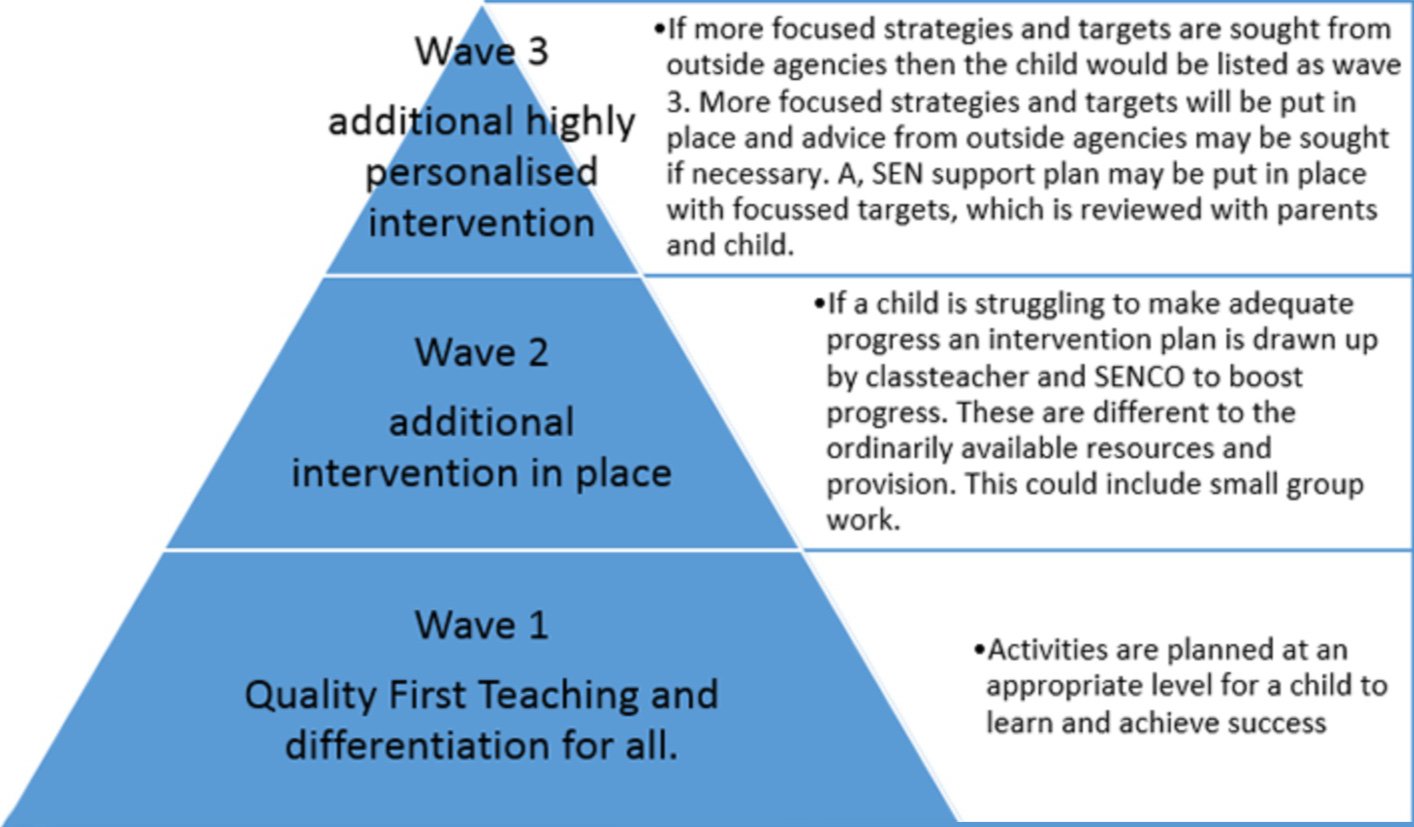 When children have been identified as needing further intervention the SENCO will carry out observations and assessments, combined with discussions with the class teacher, parents and outside agencies where appropriate.
The Areas of Need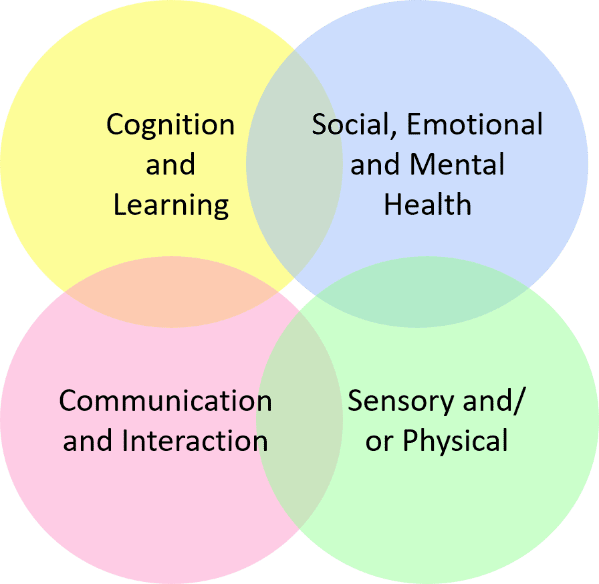 Cognition and Learning
Children may have difficulties with the skills needed for effective learning such as use of:
Language, memory and reasoning skills

Sequencing and organisational skills

An understanding of number

Problem solving and concept development skills

Children may have a specific learning disability such as dyslexia, dyscalculia, dyspraxia or dysgraphia.
Communication and Interaction
Children may have a delay or disorder in one or more of the following areas:
Attention/Interaction Skills

Understanding/Receptive Language

Speech/Expressive Language
Social, Emotional and Mental Health
Children with Social, Mental and Emotional Health needs may have difficulties with social and emotional development which lead to or stem from:
Social isolation

Behaviour difficulties

Attention difficulties (ADHD)

Anxiety and depression

Attachment disorders

Low self esteem

Issues with self-image
Sensory and/or Physical Needs
These pupils may have a medical or genetic condition that may lead to difficulties with:
Specific medical conditions

Gross/fine motor skills

Visual/hearing impairment

Accessing the curriculum without adaptation

Physically accessing the building or equipment

Over sensitivity to noise/smell/light/touch/taste

Toileting/self-care